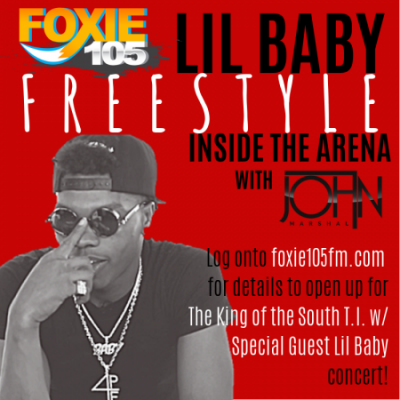 Foxie 105's Lil Baby Freestyle Inside the Arena"
Listeners will log onto
foxie105fm.com
to submit a song/freestyle for a chance to battle during the Arena in the John Marshal Show in the 8pm hour. Contestants will battle daily until only one person is standing. Winner will open up for Lil Baby at the King of the South T.I. with Lil Baby concert on Dec 1, 2018.
-Freestyle needs to be over the Lil Baby "My Dawg"
-Submissions must be 2 minutes or less, CLEAN/ NO CURSING, mp3 format
-Submissions will be accepted November 8th-16th
-The contest will begin on Monday, November 12th. The winner will be picked Tuesday, November 27th.
COMPLETELY FILL OUT THE FORM BELOW WITH SUBMISSION