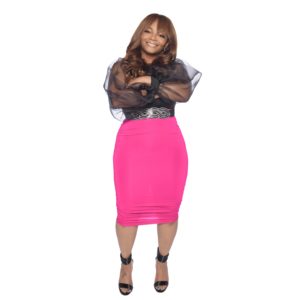 Nicole'Ray has proven to be one of the most driven, dedicated and innovative women in the
industry. This bright-eyed, ambitious soul was born into a military family in Arkansas but raised
in Georgia where music became a cohesive bond to her life. The discipline, ambition, and noble
character instilled in her during her childhood & young adulthood years were used to catapult her
into a lifetime career full of many successes. Davis Broadcasting hired her as an intern, but
with Nicole'Ray's drive, she quickly made her way up to becoming an On-Air Personality and
Promotions Director. After building many great relationships from her
position at Davis Broadcasting, Nicole'Ray branched off. She landed the opportunity of a
lifetime and started working as Ted Lucas' Executive Assistant at South Florida's number
one recording label, Slip N Slide Records. This label was the breeding ground for many world-
renowned artists such as Plies, Rick Ross, Trina, Trick Daddy, etc. Nicole'Ray found a new love
for the world of entertainment and management. This passion eventually afforded her the opportunity to work in Atlanta for Ne-Yo, one of the
most accomplished entertainers and songwriters of our time. Under Ne-Yo's management company, Compound Entertainment, Nicole'Ray
oversaw various day to day operations. After years of experiencing a monumental and exciting career, Nicole'Ray decided to take a break
from the radio and entertainment industry. She launched Marathon Transportation and Logistics, LLC – a
trucking company located in Columbus, GA. That doesn't stop there! She is now on your radio every
Saturday at WFXE Foxie 105. She is always ready to work it like a boss and
inspire women throughout the Columbus tri-state area! No matter
what life takes her through, Nicole'Ray is ready to embark the journey. It's always an exciting
day inside Nicole'Ray's World! Join the ride and see what the world has in store for you!
Tune in weekdays from 10am til 3pm and Saturdays from 1pm to 4pm on Foxie 105!